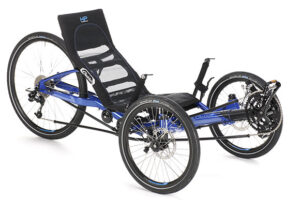 $4070
*Starting Price
+++++ Gekko US models currently not available. Gekko 26 expected to be available again from Spring 2022, Gekko fx models from end of 2022. +++++
A Great Trike to Get You Moving Fast
Gekko fx 26: Unfolds a Great Deal of Triking Pleasure
The smooth performance of the large 26 inch rear wheel in this trike is outstanding. Once you have experienced this, you probably won't want to miss this feeling anymore. The long wheelbase ensures a smooth, yet dynamic performance. And yet the large-wheel-version of HP Velotechnik's foldable Gekko recumbent trike remains remarkably handy: all parts stay on the trike when you fold it. Which means: In 10 seconds your trike can be folded up to car boot size with ease!
A focus on sporty riding dynamics – or most importantly a reliable travel companion? You can choose for yourself: The Gekko fx 26 is as versatile as all recumbent bikes and trikes designed by the the expert engineers at HP Velotechnik's headquarters in Kriftel, Germany. Whether you' re looking for purist high-speed maneuvers on a lightweight recumbent trike or want fenders, luggage racks and comfort options: You choose – and we build your dream trike!
Get up to Speed!
26 Inch Drive Wheel for Dynamic Propulsion
The large 26 inch rear wheel gives the Gekko fx 26 a significant boost in dynamic propulsion. The advantages of this chassis design are clear: the long wheelbase and the powerful drive wheel behind the cockpit deliver a noticeably more comfortable triking experience. Key points are smooth running, less rolling resistance and easy-rolling over obstacles.
Impressive: the elegant notchback. The frame's powerful, curved seat stay appears to transfer the power directly into the pilot seat of this trike. The long wheelbase in combination with the dynamically swept forward cross members give the large Gekko fx 26 it's own prominent language of design.
The sturdy smooth-running wheels are optimized for the high side forces on the tricycle. The black anodized HP Velotechnik tricycle rims with rugged aero hollow section combine excellent directional stability, maximum lateral stiffness and low weight for quick acceleration. Further highlights are our hubs with maintenance-free, sealed precision ball bearings and stainless steel spokes.
Wider is better: The wider the track width, the higher is the tilt stability and the faster your trike is when cornering. For this purpose the broad track of 78 cm (30¾") of the Gekko fx 26 provides a lot of room between the wheels for your hands on the wide handlebars, allowing a much wider steering angle for a small turning circle. To enable your fast foldable touring trike to slip casually through doors and gates, HP Velotechnik has developed narrow hubs for a low total width of only 83 cm (32¾").
Unfolds Pure Driving Pleasure
Trike Technology Hotspots for Your Comfort
Although the fast touring trike Gekko fx 26 comes with a big rear wheel, you can fold it small, just like its little brother with the 20 inch rear wheel. In no time at all. A practiced trike rider will take only 10 seconds to fold his vehicle to a size of 107 x 83 x 58 cm (32 x 23 x 42″)
Thanks to HP Velotechnik's patented Dual Flat Fold System (D.F.F.) no parts have to be dismantled. Not even if you have chosen to equip your trike the optional electric motor and battery.
The pedal position, which is significantly higher than the seat, ensures efficient power transmission. Together with the adjustable flat seat angle for a streamlined position, it emphasizes the sporty appeal of your Gekko fx 26. Of course, this is also reflected in the other technical details!
Smiles for everyone: The US-Edition Gekko models not only combine HP Velotechnik quality with an attractive price but also give you several feature-packed setup levels to choose from. To top it all off and set you smiling and riding as soon as possible, we keep these US models ready for immediate shipping with our logistic partners in the USA.
Three configurations were carefully selected to meet the specific preferences of American recumbent enthusiasts. You can choose between sport-oriented, performance-driven or comfort-focused components for our US Gekkos.
Specifications and Technical Data
The outstanding ride of our nimble tadpole trike is of course based on thoroughly engineered performance technology with precise technical specifications. The detailed figures can be found here in the technical data sheet – from the dimensions to the payload, from the seat height to the appropriate rider size. And of course, we are also happy to show you which colors you can choose for your Gekko fx 26.
| | |
| --- | --- |
| Seat height | 35 cm (13.7″) |
| Seat angle | 39–47° |
| Wheel size (front wheel) | 20″ (ISO 406) |
| Wheel size (rear wheel) | 26″ (ISO 559) |
| Max. tire width | 5 cm (2″) |
| Bottom bracket height | 38–48 cm (15 – 19″) |
| Ground clearance | 13 cm (5 1/8″) |
| Wheelbase | 114 cm (45″) |
| Track width | 78 cm (31″) |
| Width | 83 cm (33″) |
| Length | 187–219 cm (73–86″) |
| Turning circle | 4,65 m (15¼´) outward |
| Folding size | 107 × 83 × 58 cm (32 x 23 x 42″) |
| Standard color | Magma red, Deep blue |
| Bottom bracket standard | BSA 68 mm |
| Weight | from 16,7 kg (39 lbs) incl. pedals |
| Payload | max. 130 kg (286 lbs |
| Frame material | Aluminum 7005 T6 heat treated |
| Rider height | ca. 1,60 – 2,00 m (5'3″– 6'6″) |